Did you know that 90% of all marketers say social media marketing has increased their business exposure? Or that 66% of marketers that spend at least 6 hours on social per week have seen more leads? No matter what you sell and who you sell it to, using social media as a marketing tool can help you grow your brand and increase your sales. Some companies look at social media as just another thing to do on their already overloaded marketing plate.
However, according to Business 2 Community, 70% of the U.S. population has at least one social media account, and over half have two or more, so the companies who consider social media to be just another chore are missing out on the huge potential to reach their target audience.
The Importance of Social Media
1. Social media posts drive targeted traffic
Whatever your industry, segment and audience, a substantial portion of your customers and lead are on social media. A recent study found that 68% of American adults are Facebook users. Among 18 to 24-year-olds, 78% use Instagram and 45% are on Twitter. Even among Americans 65 and older, 37% are social media users.
Having access to all those customers helps boost traffic particularly for new site content. When you post a new blog or update your homepage, it can take a while to get traction with Google. That means very few customers will know that new content is there until the next time they're searching for your product or service.
Social media post provide an opportunity for the public to find your new content and click through your site. And because those posts will primarily show up in the feed of followers and people interested in your product, that traffic is typically very targeted. It won't just boost your traffic numbers – it will bring in the type of visitors you want to attract
2. Using social media for business boost your SEO
Search engine crawlers know which pages are consistently earning traffic and which are just floating out there, forgotten and ignored. Although your killer content strategy is the most important factor in your search rankings, driving traffic to your optimized pages will cause them to climb faster.
3. Connect with Your Target Audience
What if there was a way to have an open two-way channel for communication with your prospects and customers?
Oh, wait. There is – SOCIAL MEDIA
Whether you're there or not, your prospects are looking to social media first to connect with. So be there. Because when people have an opportunity to give valuable insights, they feel important, and they give you an opportunity to improve your products, service and marketing strategies with their feedback.
4. Open Up Opportunities for Sharing
Sharing information, achievements and mindless musing are much faster than it was thirty years ago. If you have a marketing message you want to get to your audience as quickly as possible, all you have to do is post it your social media accounts.
You can deepen your connection with prospects and consumers through sharing on social media. It's really easy to post and share relate-able, humanizing content without spending a penny. Plus, it's extremely fast.
The benefit here is that your followers see you as a person just like them, making you stand out more in their minds, and you can get in front of them with a quickness, which is never a bad thing.
Consumers see Twitter, Facebook and Instagram as social networks, not marketing machines. That can be a challenge when you're first developing your social media marketing strategy. A lot of companies instinctively take a hard sell approach, inundating their followers with discount offer codes, new product announcements and customer reviews. Then, when the account only brings in modest traffic gains they assume social just isn't a good fit for their brand.
But customers don't want to be pitched to – they want authentic engagement.
When you stop seeing social as a way to pitch your customers and start seeing it as a way to connect with them it can transform your brand. Check out a post we wrote a couple of months ago on Instagram marketing.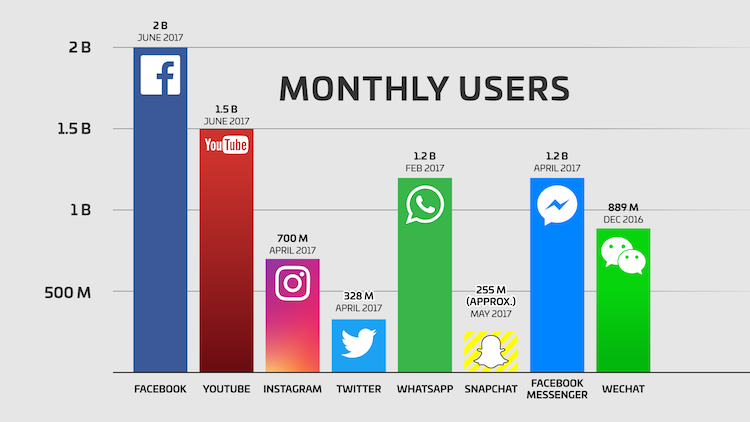 Instagram vs Facebook: Engagement
Facebook
Facebook represents a huge potential market for your social media efforts, but it is becoming increasingly difficult to stand out from the crowd. The following stats highlight some relevant Facebook facts. Facebook released the second quarter of 2018 results on the 25th of July, 2018.
Worldwide, there are over 2.23 billion monthly active Facebook users (11% increase year over year).
 There are 1.15 billion mobile daily active users (23% increase year over year).
 Mobile advertising revenue is reported and according to Facebook, it represents approximately 91% of advertising revenue for Q2 2018.
 1.47 billion people on average log onto Facebook daily and are considered daily active users.
 On average, the Like and Share Buttons are viewed across almost 10 million websites daily.
307 million users in Europe.
 Age 25 to 34, at 29.7% of users, is the most common age demographic.
Facebook users are 76% female and 66% male.
Highest traffic occurs mid-week between 1 to 3 pm.
On Thursdays and Fridays, engagement s 18% higher.
Average time spent per Facebook visit is 20 minutes.
Every 60 seconds on Facebook: 510,000 comments are posted, 293,000 statuses are updated, and 139,00 photos are uploaded.
42% of marketers report that Facebook is critical or important to their business.
16 Million local business pages have been created as of May 2013 which is a 100% increase from 8 million in June 2012.
Instagram
1 billion monthly active users – up from 800 million from September 2017.
500 million daily users.
32% of internet users are on Instagram.
 90% of Instagram users are younger than 35.
 80% of Instagram users are outside of the U.S.
Over 60% of users log in daily, making it the second most engaged network after Facebook.
Instagram has doubled in the last two years.
70.1% of brands are now on Instagram.
As you can see, Facebook might have larger vanity numbers but Instagram's stats are very impressive – particularly in terms of engagement. Instagram has built itself up as a platform that thrives on users being able to engage with the visual content brands share. Coupled with impressive growth rates, Instagram is where marketers need to shift their focus in the coming months and years. With the adaption of IGTV Instagram is continuously proving that they are ahead of the game and challenging any and all competitors in the market, IGTV taking on YouTube.
The top advantage that Instagram has over not only Facebook but every other social media channel is engagement. A study on social media engagement looked at over three million user interactions with 2,500 brands on seven social networking sites. Six out of the seven social media sites including Facebook and Twitter had less than a 0.1% engagement rate. The seventh social network was Instagram, which had an astounding 4.21% engagement rate. 58 times the engagement rate of Facebook.
About Sendmode
Sendmode has been in the Bulk Text and SMS Marketing industry for almost 100 years and serves over 30,000 customers worldwide. Bulk SMS is proven to be one of the most effective direct marketing techniques available to all businesses. With open rates of 98%, your messages are guaranteed to be delivered and read by your customers. We can help you build your opt-in customer database with easy to implement techniques and then provide advice on content, timing and frequency of your bulk SMS opt-in marketing campaigns. If you would like to try SMS for the first time (or maybe switch from your current provider) please click the link below, check out our extremely low prices and then click 'Try for Free'.

Thanks for taking the time to read this post. If you have any questions you can get us on web chat, email, or by phone.