The HLR Lookup is a new feature available from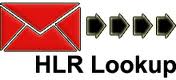 Sendmode. It provides you with the opportunity to verify all the numbers in your database to ensure they are all currently in use and able to receive your messages.
The  HLR Lookup tool will provide you with many different status options which affect the routing of your message. This covers a range of statuses from expired, old unused numbers to roaming, out of coverage and switched off status notifications.
Any questions on HLR Lookups please contact Sendmode on 0749116059 or e-mail support@sendmode.com.
More to come on HLR Look ups in the future.
Thanks for reading our blog.