The General Data Protection Regulations (GDPR) specifies that you must receive explicit consent from consumers, also called data subjects, and you must keep a record of that consent should the data subject submit a data access request to your company. Sendmode has a number of easy to use features to satisfy these requirements and keep your Bulk SMS Marketing GDPR compliant.
Recording Consent
There are a number of ways to add your customers to your Sendmode account. We will deal with opting in via our Application Programmers Interface (API) is a separate blog. This blog will show how to record consent and run consent and GDPR reports from your online account.
Manually Adding or Editing Customers
When you manually add or edit a new customer you will notice a new field called Opt-In consent. This is where you can record how consent was received. For opt-ins using a keyword, API or Imported from excel this field will be already populated. However, you can change for any individual customer if you wish. The screenshot below shows the position of the new Opt-In Consent field.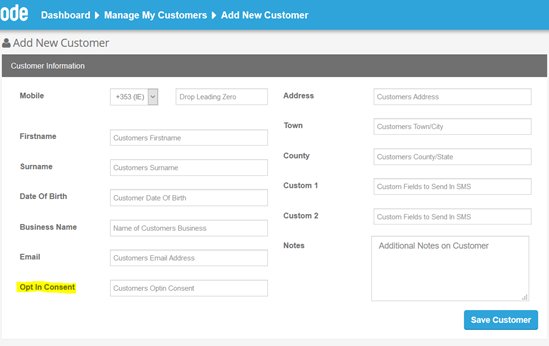 Importing Batches of Numbers using Excel
When you import a batch of numbers using an excel spreadsheet there is a new field in Column M in which you would record consent. Say for example you ran an in-store promotion called 'Summer 2018 Draw' and collected a list of new data subjects details. When importing all these new numbers into your Sendmode account, you would put 'Summer 2018 Draw' in column M and we will store it and timestamp the record for you.
Tip: An example of a GDPR compliant consent form for future in-store competitions can be downloaded here.
The screenshot below illustrates the position of the new field in the excel spreadsheet format.

Sendmode has been in the Bulk Text and SMS Marketing industry for almost 10 years and serves over 30,000 customers worldwide. We are fully committed to keeping our customers GDPR compliant and provide a number of easy to use features such as the subject of this blog – recording consent – across our platform. If you are using another Bulk SMS provider and are not satisfied with how they will keep you GDPR compliant, why not register for a no-obligation free trial by clicking the image below, check out our super low prices and then click 'Try for Free'

Thank you for your time, we hope you found this blog useful.
John