Word-of-mouth is king when it comes to making a purchasing decision. It is estimated that reviews signals account for 9.8% of the total ranking factors, which means that they cannot be ignored during SEO, especially if a brand can benefit from their use.
Customer reviews of your business, service or product posted through your website or social media platform can have an exponential reach, extending quickly into the virtual world. Visibility of your business increases, which can heavily impact the reputation of your business.
Since most consumers trust online reviews, this can be a good thing when the reviews are favorable. Even negative reviews, when managed correctly, have the potential to leave a good impression as they can show that you are dedicated to resolving issues customer may have.
It's no secret that online reviews can be significant, but just how important are they to a marketing campaign? Can they really make or break a sale? Can the quality or quantity of the review you receive have that big of an impact on your company's bottom line?
According to Yell Business, reviews can also help improve communication and customer service. They give your business credibility and act as social proof, even for new businesses. Online reviews also provide other customers with valuable company information, with first-hand insights that business owners may not have thought to share.
Reviews are also becoming more prominent as a content format in their own right. Star ratings are increasingly visible in search results, with review add-ons for Google Ads and rating in local search via Google My Business.
The number of customers who read and trust online reviews is increasing. According to a survey by BrightLocal, 88% of consumers trust online reviews as much as personal recommendations, which may come as a surprise as many online reviews are left by total strangers. The same survey found that only 12% of the population did not regularly read reviews for consumer products
The Stats:
90% of consumers read reviews before visiting a business
31% of customers are likely to spend 31% more on a business with excellent reviews
Reviews can boost your results by using fresh user-generated content
72% of consumers will take action after reading a positive review
88% of consumers trust online reviews as they would personal recommendations
67% of consumers will read 6 reviews or less before forming an opinion on a business
Reviews and your SEO
According to MOZ's Local Search Ranking Factor Survey, online reviews are thought to make up 10% of how Google and other search engines decide to rank search results. See image below: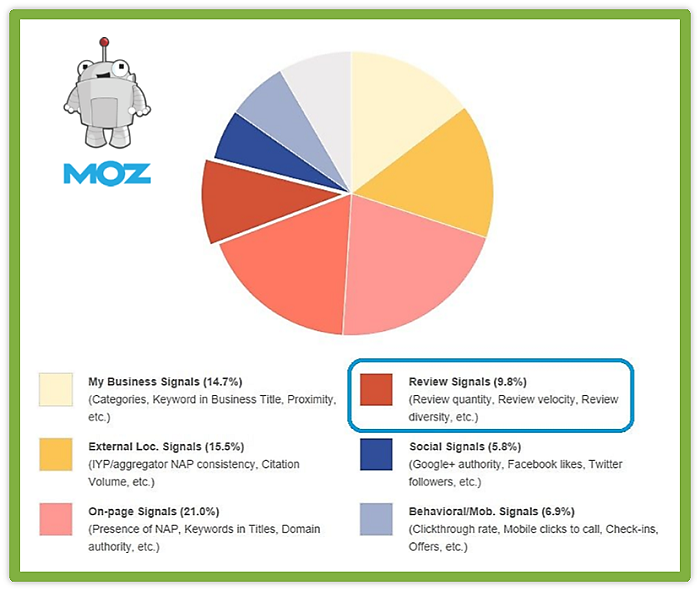 Reviews provide search engines with fresh, relevant content:
It's not always possible for a brand to create tons of new content, marketing teams are often small or non-existent. Consumer-generated content (via reviews) is a low-effort, effective way to power your site and social media channels with unique, authentic content, that also creates great engagement. Something search engine looks out for.
Reviews aren't just great for increasing conversions; boosting customer trust, and powering word-of-mouth marketing – they help you get more traffic from search results.
Plus, that traffic is of great quality because it has high search intent.
---
Like many other forms of social media, online review sites give you the chance to develop a closer relationship with your customers. You're likely to get to read reviews from a range of customers, many of whom might not otherwise tell you their opinion of your business. You can also reply to both positive and negative reviews, demonstrating that you're interested in what customers have to say, and improving your service based on the feedback you receive from the customer.
As mentioned, Google now places a massive value on customer reviews for search engine rankings. We would love if you could spare 30 seconds to leave a quick review of Sendmode? Feedback helps us help you! It will help us improve the service and would help our Google SEO as well. If you like (or love) Sendmode please click the link below and leave a review.
Note: You'll then receive an email to verify and just put SENDMODE in the OrderID box and Submit
This is very much appreciated by all Sendmode. And if it does improve our rankings, we'll let you know and would be delighted to respond in kind.

Saoirse