Cloud Computing can be beneficial to businesses in many ways, as follows: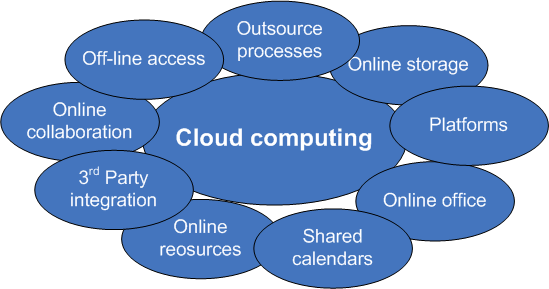 Cloud computing enables you to move existing or create new applications and services using trusted technology, creating large pool of users which is ideal for all types of businesses no matter the size.
Cloud computing provides a fast competitive service to meet customer needs and develop customer advantages, ideal for multiple uses. With Cloud computing you  have the freedom to choose how you want to use the cloud facility from storing data to deploying resources.
Clouds are available online on a 24/7 basis and can be accessed from anywhere in the world. Also clouds can have sub clouds to back up data and for a variety of cloud sections e.g. storage cloud –v- community/feedback cloud.
Cheap to do business: As there are fewer costs associated with the cloud, this is a cheap way to do business with the availability to access the facility  from anywhere in the world.
Application Programming Interface (API) provides ease of access to the software that enables machines to interact with cloud software for all users.
A cloud provides consistency for every user, every time as the system is provided through web services.
Security can be improved because of the centralization of information with increased security-focused resources for all users.
Maintenance is easier as no software installation is required to use the system and all changes are available immediately once saved so, you can save time and money doing this.
If you have any questions about the benefits of cloud computing please feel free to contact Sendmode.