Hi,
We created Sendmode in 2009 to deliver the lowest cost and highest quality SMS Marketing service on the internet. We know SMS Markeitng is fast, efficient and effective but for any business owners out there, if you are not already aware of how SMS marketing leads to consumer purchases, well here's the proof !!! A recent study in the US asked consumers if they had completed a purchase as a direct result of some action taken on their smartphones.
The following slide is from a webinar by eMarketer which highlights which mobile channels drive engagement and conversions for smartphone users.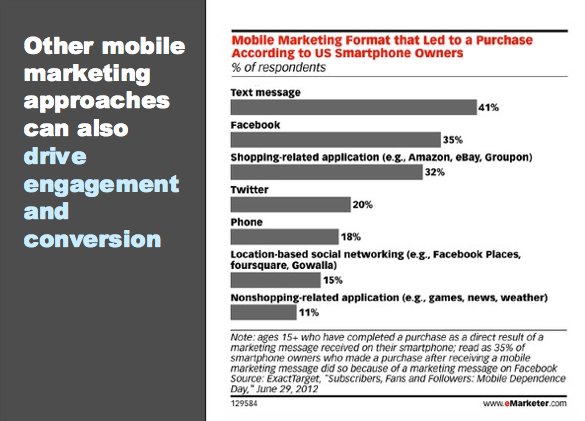 We love the fact that SMS marketing comes in at a whopping 41% with smartphone owners saying they made a purchase because of a text message they received. Now that's a great statistic for SMS marketing and despite all the media speculation about the demise of SMS, business owners are still flooding to this fast and effective marketing channel as it provides great results at a low cost.
Ask any business owner and they will tell you how frustrating marketing and advertising their business can be. SMS Marketing can help both aquire new customers and especially, retain existing ones.
Thanks for taking the time to read our blog. We really appreciate it.
Should you wish to learn more about Sendmode and SMS Marketing please call 01-685-4913 or email support@sendmode.com
Thanks,
John