So you've decided to engage your customers with bulk text messaging but you're not quite sure where to start…Sendmode are happy to tell you about some super clever SMS marketing examples that we have come across over the years. Remember, you know your industry and your customers better than anyone else, so you should be able to decide what will entice them to pick up the phone, send a reply text, go online or in store and ultimately make a purchase!
Clever SMS Marketing Example #1
A gym owner sent the following text to his expired members to encourage them to sign up for membership again. This text was sent to 15,000 customers at a cost of €900. The response rate was 0.9% and generated 143 new memberships worth €213,785.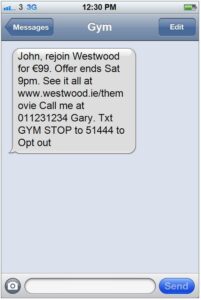 They segmented their customers and sent the text to only those whose membership had expired. The text was personalised using the customer's first name, and also included the name of the person they should contact within the gym to avail of the offer. The text was short, succinct and easy to read. It gave customers the option to opt out. It also included some very clear calls to action- go online or give them a call. This text message ticked all the right boxes and thus generated revenue for the gym.
Clever SMS Marketing Example #2
A spa recently decided to test out SMS marketing by sending a text message to their top 50 customers. The text cost them £1.70 and generated over £400 worth of revenue in a short space of time with a 4% response.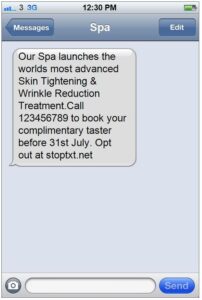 This text message was correctly targeted to those customers who might be interested in the offer based on their previous purchases. It included a very clear call to action- a number to call to make a booking by an exact date; this also added a sense of urgency to the message. The message was short, succinct and very importantly it included an opt out option at the end.
There are some key points to learn from SMS marketing examples; always personalise your message, segment your customers and only send messages that are relevant to your audience. Include a clear call to action so they know what to do next and finally give customers an option to opt out. If you take these points on board, you too can benefit from the advantages of SMS marketing.
To find out more or for advice on your next SMS marketing campaign, give Sendmode a call on 01 685 4913 or email support@sendmode.com and we'd be happy to help you.
Thanks for reading our blog.
Aine