There are many benefits to HLR Lookups as they are used to clean up your customers database of customers.
The main advantage of HLR Lookups is that it will save you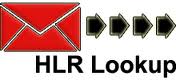 money as the results will show the numbers in your database that are no longer active. Once you know which numbers are old you can delete them and prevent yourself from getting charged for these messages.
HLR Lookups enable you to see the quantity of mobile numbers in your database that are in roaming mode at the time the lookup is being completed. This is a great tool for you to use to see if people are on holiday and then you can use your discretion in sending the message to them or not.
HLR Lookups will show the network which the customer uses their mobile phone on – from this you will be able to identify if the number has being ported to a new network provider. You can generally identify ported numbers as the prefix will not match the networks standard prefix numbers (085,086,087,083 at the beginning of the mobile number). However our HRL Lookup will state the number is ported.

Hope these show you how useful the HLR Lookup is for you when using Bulk SMS Marketing.